Coffee Shops in Wichita with Wi-fi
Podcast Transcript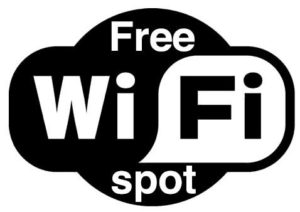 Hello. Welcome back to What's Brewing with Augustino. I'm your host Augustino Iacopelli. This is your source for information about craft beer, craft coffee, and craft food. We also talk about the trials and tribulations of opening up a craft brewery in Wichita, Kansas.
Today, we're going to be talking specifically about coffee shops in Wichita with Wi-Fi. I can't even imagine why a coffee shop in Wichita would not have Wi-Fi added in this day and age. It seems like it's almost a requirement. Certainly, Augustino Brewing Company will have Wi-Fi in Wichita, and a lot of other places already do, whether you're going to a Starbucks or a Reverie or a Verita, you're going to find some sort of Wi-Fi access.
I think the real important aspect, though, is to make sure that it is a very reliable Wi-Fi and that you are also backward compatible with earlier versions of Wi-Fi. That's one thing that I ran into at some coffee shops in Wichita with Wi-Fi. Just because they have Wi-Fi does not mean that they would work with my laptop that I had with me because I have a little bit of an older laptop that does not have the latest version of Wi-Fi technology. There's some coffee shops out there that if it's not the newest Wi-Fi, which grant you, it, the newest Wi-Fi is not that new, but I did realize that if you're not on the newest version of Wi-Fi, you might be out of luck depending on where you're at.
I think this partially has to do with how the technologists who are working on setting up the Wi-Fi at a location do so, but it's something that if you have an older device, you need to be aware of when you're trying to go to coffee shops in Wichita with Wi-Fi and just be aware that you might not be able to access the Internet with the type of setup that you have.
I've run into this a lot more with breweries here in Wichita than I have with coffee shops. Most of the coffee shops here in Wichita are backward compatible in terms of Wi-Fi, but it is something to be aware of. If you happen to go into a coffee shop and you're just not seeing Wi-Fi even though you know that Wi-Fi is available at that location, there is a very high likelihood that it's one of two things. Either you have security settings on your device that makes it incapable of seeing the Wi-Fi or perhaps even more likely, you're on a device that's maybe a little bit older and because it's a little bit older, it doesn't operate on a newest type of Wi-Fi, and that's why you're not seeing it. It's kind of important to look around and find that, especially if you're like me and you're always on the go and you're always working on stuff, you really want to make sure that you have nice fast Wi-Fi that you could rely on wherever you're going.
For many of us, the places that we're going out and about throughout the day, that's our office. Many of us these days do not have a static office in one location. We have an office that's all over town. I'm certainly no different than any of you on that. Coffee shops in Wichita with Wi-Fi are really, really important to me. Even though, it, again, seems like that would be a no-brainer in my mind in 2017 that it would be there everywhere I go, but the truth is, behind every Wi-Fi that's set up, it needs to be the technology and the people even in house to manage that Wi-Fi because its, in this day and age, probably one of the most important attributes even beyond the actual services that that business, in this case coffee shops, are providing.
Everybody wants to be connected to Wi-Fi. Until municipalities wind up creating a Wi-Fi that everybody can connect to, having Wi-Fi connectivity in coffee shops in Wichita is awfully important. One thing that we are very mindful of as we get Augustino Brewing Company up and about is to make sure that we don't just have Wi-Fi to say, "Hey, we have Wi-Fi." We're going to have Wi-Fi to be able to allow you a very customized and personalized experience when you're connected to it at Augstino Brewing Company.
That's why one of the things that we intend to at Augustino Brewing Company is we're going to have a sign-on, which kind of stinks because it's a little bit more of a step to get onto the Wi-Fi, but by doing that, we're going to be able to provide you with an experience that tailors to your device a little bit better and that will allow you to have a better connection experience when you're at Augustino Brewing Company, which we think is a good trade-off for asking for some sign-on information when you come to our Augustino locations.
Also, another really cool thing that we're going to have is our Ultimate Mug Club program. One of the things that we're discussing as a possible addition to that program is to have an upgraded Wi-Fi experience for people who are members of the Augustino Brewing Ultimate Mug Club to be able to come in and have even faster Internet service than the others who are there and more priority service through the lines. We think that that's going to be a great experience for those of you who choose to become members of the Ultimate Mug Club program.
If you want to find out more information about that while we're on the subject, kind of getting off our topic a little bit, you can go to AugustinoBrew.com. That is the website for Augustino Brewing Company. You can actually go to AugustinoBrewing.com as well. That's going to redirect you over, but even going to the website, you'll get a better flavor for what we have to offer. Wi-Fi being one of many, many attributes that we will have at Augustino Brewing Company, but for a lot of people, myself included, the Wi-Fi is really important at places that I go to, especially coffee shops and breweries as well.
There are breweries here in Wichita that I go to less frequently because I know that my laptop doesn't connect to their Internet. They are otherwise good places, but because they don't have connectivity to the Internet, I won't go there as often because if I've got stuff to do and would love to have a beer to drink while I'm working on it, which hey, some of us do, I'll avoid those locations because I know I can't get as much work done.
Anyway, I wanted to bring up this subject, which is one of those attributes of coffee shops in Wichita that we don't think about, but it's important to evaluate coffee shops in Wichita with Wi-Fi. Thanks for listening. I'm Augustino Iacopelli. This is What's Brewing with Augustino. We'll catch you next time.
That's what's going on with Augustino Brewing.