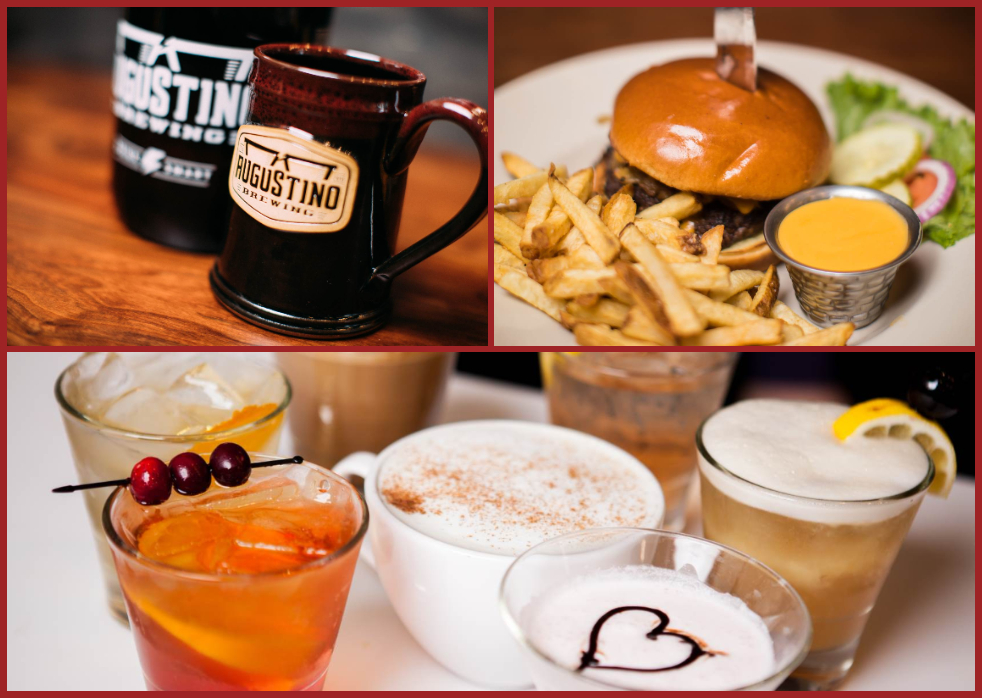 Beer, coffee, and food.
---
These are the hallmarks of
a great experience.
Everything is better when it comes to you from
your community and your neighbors.
Our beers are all made in-house and in small batches. Our coffee is only sourced from local roasters and is custom brewed to perfection. Our food ingredients are selected with as pure of sources as possible.
WHAT OUR FANS SAY ABOUT OUR WICHITA COFFEE AND BEER…
---
"World class beer in a world class city!! It's one of a kind and definitely a place to add to your 'must eat/drink at' list!!" – Jacob Wayman
"This place has great brew and so much potential" – Lizz Accosta
"By far the best place in Wichita! I've been to every brewery in Wichita and this is the best! I hate IPAs but I enjoyed their IPA! Everyone should try it and their food…..I could eat it daily!!" – Terri Wolfe
"One of my favorite evening spots for good food and a couple drinks" – Jason Buss
Augustino Brewing Events
SO, WHY A CRAFT BREWERY AND COFFEEHOUSE?
The founders of Augustine Brewing Company noticed something very interesting about Wichita coffee and beer drinkers. It turns out that in many cases these are the same people. Those who are really into drinking craft coffee's in the morning to start their day on a more peppy and happy footing are the same people who love hanging out and enjoying good food and good drinks at the end of the day with
friends and family. Whether it's a cup of finely crafted coffee in the morning, lunch with coworkers, or a beer 30 with good friends, Augustino Brewing Company will be there for you. We all have busy and sometimes stressful lives that we contend with. It seems that sometimes it's hard to have just a moment to ourselves.
At Augustino Brewing Company, we are on a quest to create moments of daily joy for you are neighbors because we believe you deserve an escape from the high-paced nature of modern life. Our goal is to accomplish this uniquely by creating for you a community around the neighborhood brewed craft beer and coffee served in a casual and friendly atmosphere. To this and, we rise and grind fresh coffee in the morning and bring beer and cheer into the evening. Our fans can also join our one-of-a-kind Ultimate Mug Club program for daily Wichita coffee and beer drinks in the morning or evening, along with exclusive food and merchandise discounts, all for you, our dedicated fans.