Careers at Augustino Brewing Company
Apply for All Our Open Positions Online at Indeed.com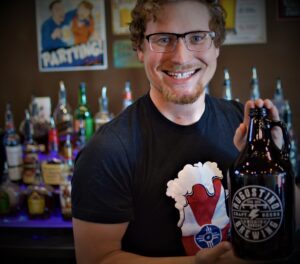 Apply for All Our Open Positions Online on Our Site
Are you looking for a career with diverse opportunities and advancement potential for the best and most motivated people and not just a job? If the answer is yes, then careers at Augustino Brewing might just be the right opportunity for you.
Augustino Brewing Company is a brewpub that brings more than great locally made craft beer, beverages, and food to our guests. We bring experiences and we are committed to a well-educated and knowledgeable staff. Our team builds relationships with local charities, particularly those focused on the health and well-being of children. We believe no child should go without food, shelter and happiness.
At Augustino Brewing Company, you will be more than a bartender; you are a part of our show to our guests. Careers at Augustino Brewing require our cast members to deliver a standard of excellence. This is why excellent employees are paid well and average employees work for our competition.
We are seeking diligent, coachable and highly motivated individuals who have the passion and experience required to wow our guests beyond their expectation.
Apply for All Our Open Positions Online at Indeed.com
Apply for All Our Open Positions Online on Our Site
Fun Facts about Augustino Brewing Company
We have been featured in the Wichita Business Journal, the Wichita Eagle, and in several area beer and restaurant blogs. In 2021, we were named one of the 50 best brewpubs in the US by Travioso.com. Our customers are called guests, and our employees, cast. We use these terms because we consider ourselves acting out a show every day to provide an outstanding experience for our guests.
The Vision
To make the show we put on for our guests the best part of their day though delivering excellent food and beverage experiences.
Apply for All Our Open Positions Online at Indeed.com
Apply for All Our Open Positions Online on Our Site
The Atmosphere at Augustino Brewing
We create an outstanding dining and drinking experience for our guests. We hold our team members to a quality standard that is different from our competitors. Only individuals who excel at adding to the quality of our environment are welcome on our all-star cast and those who do not value constant improvement are cut from the show.
What Augustino Brewing Isn't?
At Augustino Brewing Company, we pride ourselves on the details such as customer service and the overall show we present to our guests. We know every cast member plays an essential part in creating the right environment. We don't focus on cutting corners and reducing our standards of quality because our customers see through poor quality and experiences.
The Leadership Team
Augustino Brewing was founded by Augustine and Bianca Iacopelli. This team brings decades of brewing and business expertise together to create an environment where the right employees can excel and the wrong employees are quickly shown the door. If you are just interested in a paycheck, we are not interested in you.
The Mission at Augustino Brewing Company
At Augustino Brewing Company, we believe each of our cast members have the ability and responsibility to improve the lives of our guests and community. We support many local charitable organizations with a special focus on charities supporting disadvantaged women and children. We believe taking care of the most vulnerable in our community is critical to improving the city we love.
If you feel like you have got what it takes, apply to schedule an audition with us now.