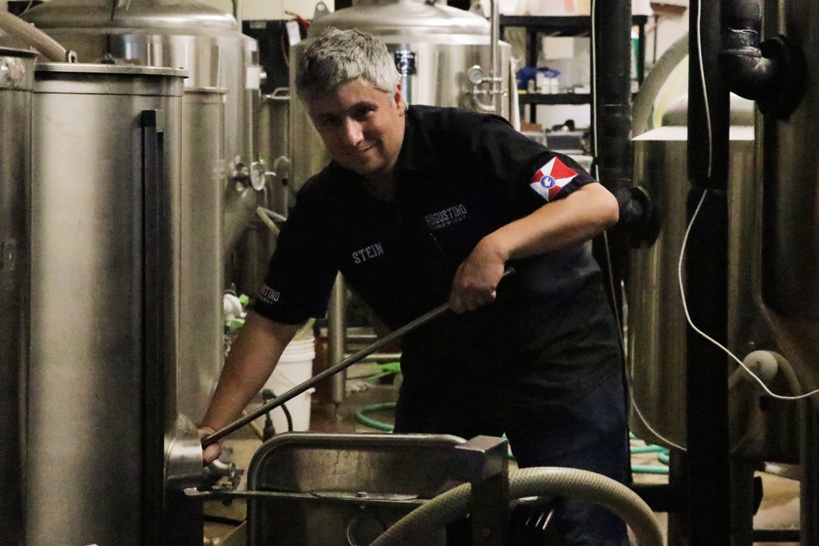 I first met Augustine two months ago when I stopped into Augustino Brewing in the middle of a Friday afternoon.  I ordered a delicious Maltster's Paradise American Barelywine beer and as I drank it, Augustine took the time to visit with me for an hour.  Soon I would come to find out this guy doesn't have time to spare on his hands, making it that much more remarkable that he spends the time to get to know his customers.
As a broke college student, Augustine Iacopelli just wanted to make some cheap beer to share with his fraternity brothers.  Hoping to come up with a solution, he decided to try brewing his own beer.  It started with a homebrew kit from the Smithsonian store.  After weeks of waiting, the first batch turned out really bad but it set the spark; Augustine had found his passion.  Augustine reflected on his early humble beginnings as a brewer and recalled that this new hobby grew as his family grew.  Eventually, he and his wife dreamed of opening a brewery together as a family.  Augustine recalled thinking, "it was at a stage where you either go for it now or never chase it.  Stare in the face of, 'do I do it, or not?'  We decided you say yes to those situations because otherwise you'll be thinking 'what if?'"
I would soon learn that while he is pouring his time, money and hard work into making Augustino Brewing a great local pub, he is also balancing a full-time job as Director at Wichita State University's West campus.  Augustine is also involved in a local homebrew club.  I asked him what his dream is for the brewery and what he hopes it will become.  "We just want to be the neighborhood pub, a small place where you could come and get a good beer and talk with friends," he told me.  As I sat there and enjoyed my beer, an excellent playlist of 90's bands brought back feelings of nostalgia.  This is the type of place where you can sit and visit with friends for hours.  Wichita, let's help make Augustine's dream a reality.  This place is for us.
Nathan Snyder
Mind of a Musician