"Fantastic coffee saison… I could drink a couple of these. Initial coffee flavor that quickly goes a bit fruity before finishing very clean"
– Katie C.
"The is one of the best local craft beers that you will find. I definitely recommend anyone who enjoys a great beer to try them."
– Curtis McDonough
Our Next Event…

Check back soon… Opening Fall 2017.
Daily and weekly adventures await at Augustino Brewing Company. Coming Fall 2017.
Drink Smart!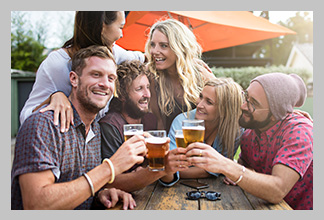 Latest Tweets
So, why a craft brewery and coffeehouse?
The founders of Augustine Brewing Company noticed something very interesting about Wichita coffee and beer drinkers. It turns out that in many cases there are the same people. Those who are really into drinking craft coffee's in the morning to start their day on a more peppy and happy footing are the same people who love hanging out and enjoying good food and good drinks at the end of the day with friends and family.
Whether it's a cup of finely crafted coffee in the morning, lunch with coworkers, or a beer 30 with good friends, Augustino Brewing Company will be there for you.
We all have busy and sometimes stressful lives that we contend with. It seems that sometimes it's hard to have just a moment to ourselves. At Augustino Brewing Company, we are on a quest to create moments of daily joy for you are neighbors because we believe you deserve an escape from the high-paced nature of modern life.
Our goal is to accomplish this uniquely by creating for you a community around the neighborhood brewed craft beer and coffee served in a casual and friendly atmosphere.
To this and, we rise and grind fresh coffee in the morning and bring beer and cheer into the evening.
Our fans can also join our one-of-a-kind Ultimate Mug Club program for daily Wichita coffee and beer drinks in the morning or evening, along with exclusive food and merchandise discounts, all for you, our dedicated fans.
At Augustino Brewing Company, we know that you seek a sense of place and belonging. It's more than just about beer, coffee, and food. This sense of place is something that's hardwired into each of our beings. For the approximately 15 to 20% of you out there who consume both craft beer and craft coffee regularly, Augustino Brewing Company will be tailored to be your place of belonging from the morning commute through your evening nightcap.
Our Ultimate Mug Club Program provides daily premium access to neighborhood brewed Wichita coffee and beer beverages under one roof for one monthly price. Our club members receive call ahead priority seating, preview access to new beverages, exclusive food and merchandise discounts, and more. At Augustino Brewing Company, we are just interested in a transaction, were interested in creating a relationship with you in a sense of place for you, your family, and your friends in the community.
Our craft beers will be all made in-house and not brought in from another location like some other breweries in town. While it may be cheaper to mass-produce and ship to different locations, we believe at Augustino Brewing Company that this takes away from the sense of community surrounding good craft beer made in your neighborhood. Even as we grow as a brand, it will always be our intent to keep our in-house fermenters full of beer made in your neighborhood just for you.
We hope that you will consider giving us a try the next time you're looking for craft beer, craft coffee, or just looking for a bite to eat. We will be opening in the fall of 2017 and are looking forward to joining us at that time. Until then, feel free to check out our blog which will be updated more frequently in the coming weeks as we get closer to opening and connect with us on Facebook, Twitter, Instagram, YouTube, and Untappd.
Don't just drink, drink smart!
Contact Us:
316-721-5554
756 N Tyler Rd.
Wichita, KS 67212

Winter Hours: Daily: 11am-9pm
Weekly Mug Club Deals:
Exclusive Daily Deals Available to our Ultimate Mug Club Members:
Sunday: 10% off Any Entree
Monday: 1/2 price Any (Non-alcoholic) Coffee Beverage
Tuesday: 1/2 price Appetizers
Wednesday & Thursday: $1 Off All Augustino Pub Beers